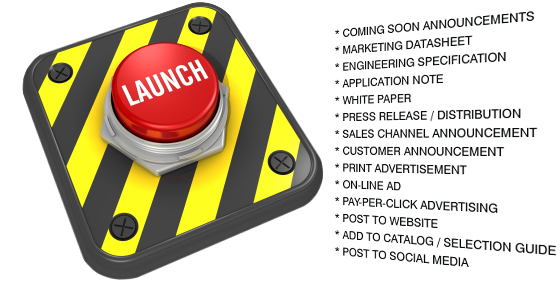 Ask yourself, how much time, effort and money was spent in the development of your product. . .and how much spent on properly releasing the product? with a great looking datasheet / spec? with a press release and marketing image sent to all the industry publications? with an email blast sent to your entire sales channel? with an email blast sent to your existing and potential customers?
We find it odd that company's spend so much on product development and pay minimal attention to releasing and publicizing it. A proper product release plan will more quickly return the value of your investment. It invigorates the sales channel and excites customers to take a closer look at your developments.
The first step is the product datasheet / specification. It is used on every opportunity, by your direct sales team, reps, distributors and customers. Engineers will perform a "paper design review" with your datasheet versus your competitors. If your datasheet is poorly designed and lacks the quality of your competitors, it is likely you will lose the opportunity before you are ever aware of it and unable to provide a sample for test and evaluation.
If the additional effort is put forth to design a proper datasheet, then it takes only a tiny bit more effort to write a brief press release; create a marking product image; send off to the industry trade publications; email to your sales channel; and email to your existing and potential customers.
As your technical writer and Graphic designer we will create the datasheet from your disorganized engineering documentation. We will write a press release defining the features and benefits of your products. We can create a marketing graphic with the product front and center on a cool background image relating to it's most common application; we can distribute to our library of industry trade publications; we can create an email blast for distribution to your sales channel and customer base; and we can even help to write trade papers, flyers and ads.