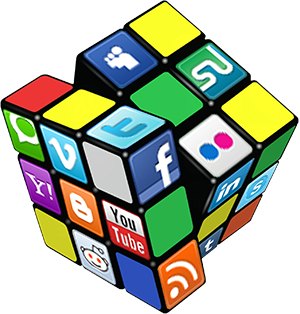 First, we have to set aside the argument that your customers do not look for companies like yours on Social Media Platforms or that all your past Social Media efforts have never won any business. I will go so far as to completely agree that Social Media does not offer any "sales" value, but. . .
If you are not active in Social Media, or at least more active than the competitors ahead of you on the search engines, then you will have a hard time surpassing them. Your social interaction is a key multiplier in determining page rank.
My advice in this area is to remain active on the primary platforms which are Facebook, Google+, LinkedIn and Twitter. The easiest thing to do is to regularly identify anything your company has done / is doing and post it on these platforms. The frequency depends upon your market and your competition. A free tool called Hootsuite can help you write once and post on up to 5 different platforms. This is likely something that can be done in-house or managed by us.
We can show you best techniques to include links back to your site, use of keywords and images to make these posts as successful and SEO powerful as possible.
DO NOT BUY LIKES / FOLLOWERS!!! Today's search engines exist solely to index content and recognize patterns. Buying social interaction can be a short term gain, it can also get you black listed, from which there is no reasnable recourse except to get a new domain and start all over again. Search Engines will eventually recognize that you got 5,000 likes in early 2016 and then nothing, which is not humanistic behavior. They will also see that all the profiles that liked you do not act in a humanistic manner and flag them as spammy profiles. . . then voila, your ranking takes a big hit and in extreme cases gets you blacklisted.
In late 2012, Universal and Sony Music had all their YouTube videos blacklisted due to fake likes. Since then, the engines have been blacklisting more and more often to end the tactical manipulation of their page rankings.